PUBLIC & MEDIA RELATIONS | SOCIAL MEDIA | COMMUNITY MANAGEMENT | SOCIAL CARE
The Musselman Triathlon is an annual multisport event held every July in Geneva, NY. It attracts more than 2,000 athletes from several dozen states, Canada, and overseas.
The Musselman has been cited as one of the top multisport events in the world by Triathlete Magazine and Inside Triathlon Magazine, among other national sporting publications.
In 2007 and 2008 Geneva was selected as one of five host cities in the International Triathlon Union Pan-American Cup series.
I have been responsible for public and media relations, and social media, for the event since its inception in 2003.
MEDIA RELATIONS
The Musselman Triathlon has considerable challenges when it comes to local media coverage - most notably the fact that the race is held in a city that is an hour away from the three nearest metro markets.
In an effort to interest television and newspaper reporters in covering the Musselman, I develop a media guide each year, and fill it with 'spotlight stories' - stories on athletes and the struggles that they face in their journey to completing the Musselman.
I like to say that with hundreds of swim caps bobbing in the water, and cyclist after cyclist after cyclist whizzing by at breakneck speeds, it's easy to forget that every single athlete has their own unique story to tell. I work to collect these and share them in our media guide. The result has been additional coverage for the race.
The Musselman Triathlon receives an impressive amount of attention from Geneva's local daily newspaper, the Finger Lakes Times, which regularly publishes front page articles, full-page color pictorials, results, and even editorials in support of the event and the positive impact it has on the community.
Some of my 'spotlight stories' have been featured in the Times. Among these, a front page article in 2009: 'Heaven's Angels', a profile on the event's Christian Motorcyclist Association volunteers (left).
I've also penned articles for regional magazines, including this one that appeared in Finger Lakes Woman in 2013.
We've also seen considerable television coverage, including television from metro markets in Rochester, Syracuse, and Elmira/Corning. One television piece, from 2010, was the result of a Time Warner Cable News camera crew driving nearly an hour to the event from Rochester, and spending several hours interviewing everyone from the race director to volunteers at the race site and elsewhere. For others, I drove to Syracuse and did in-studio appearances at WSTM, the local NBC affiliate.
I often say that getting media coverage for multisport events is no easy task regardless of location. Sports reporters can fill segments and column inches with more mainstream sports. Feature article writers don't want to cover sports at all, and unless your triathlon has an angle that relates to their beat, they often don't give your press release a second look. Summer races take place during a time when most media outlets have employees scheduled for vacations, and are operating with lower numbers than usual.
This struggle was especially evident in our first year - in 2004, as the sport of triathlon was growing, some of the media professionals I reached out to didn't even know was a triathlon was. Others didn't believe the event would take off. Media coverage our first year was limited to the local newspaper: a single photograph of a triathlete running around a skateboarder who, fittingly, seems to be confused by what is going on. A photo, and a caption. Just four years of press releases, media guides, and 'spotlight stories' later and, as you can see in the photo below, the city's newspaper was calling the Musselman Triathlon 'Geneva's Big Weekend!'
In the years since, generating press coverage has been less and less of a challenge.
For print coverage, the Musselman Triathlon has received media coverage in newspapers across New York state, from the Syracuse Post-Standard and the Rochester Democrat & Chronicle to the Elmira Star-Gazzette and the Buffalo News.
The race has also been honored in national triathlon and multisport magazines:
Recognition in national multisport publications isn't attributable to an event's media outreach - instead, it is the culmination of years of dedication by the race director, event organizational committee, and volunteers - as well as some very enthusiastic athlete ambassadors. Still, having a press kit and media guide, and an 'always-on' media coordinator, bodes well for press opportunities, large and small.
I invite you to visit the event's press page, and check out some of the press we've received over the years, as well.
In 2007 and 2008 Geneva was chosen to host International Triathlon Union Pan-American Cup races. Being selected as a host city is an honor, as there are only five or less of this level race each year and ITU races are typically awarded to larger cities with higher populations - San Francisco and Honolulu hosted in 2007 and 2008, for example.
For the Pan-American Cup events there were additional requirements, including a pre-race press conference and additional media materials that needed to be produced. You can view some of those here:
In 2008 several members of both the U.S. and Canadian Olympic triathlon teams competed in our Pan-American Cup race. This generated a lot of interest locally and regionally, and saw newspaper reporters from as far away as Buffalo and television crews from as far away as Elmira travel to Geneva to cover the event. My press release for this race was published on every major multisport website in the US, and was even published on several international sites - one even translated it into Italian.
Ten years of media guides equates to dozens of spotlight stories, five of which I've highlighted above. Interested in seeing more? You can view a selection of media guide excerpts from the Musselman Triathlon, the Seneca 7, and the Portland Triathlon by clicking here. To view the entire media guide from 2015 in PDF format, click here.
SOCIAL MEDIA
When the Musselman Triathlon was still in the brainstorming process in the fall of 2003 Mark Zuckerberg and his Harvard classmates were putting the finishing touches on TheFacebook.com. Just over a decade later the Musselman, and multisport events everywhere, utilize Facebook, and a variety of social media websites and apps.
The Musselman Triathlon Facebook group has more than one thousand members. It is active year-round, but becomes much more active in the weeks before and after the race, with triathletes posing questions via wall posts, and more experienced participants and race volunteers answering those questions. The Facebook group has largely overtaken the race director's inbox as the place to deposit questions, which anyone who works with events like this knows is a huge benefit.
The Musselman Triathlon Facebook page has more than 900 'likes'.
The race's official Twitter account has over 600 followers. It tends to be less active than Facebook, but has proven invaluable for customer service issues, as participants and their families often tweet the race account with last-minute travel emergencies, DM when they're lost around town, and retweet helpful race info. In 2013 an athlete's family came upon an intersection she thought seemed unsafe, looked up the race on Twitter, and tweeted the race account; her warning gave us adequate time to determine that the police officer assigned to that intersection had gotten the coordinates wrong, and help him find the right spot before the first athletes pedaled through. Go, Twitters!
FACEBOOK PAGE
The Musselman Facebook group was established a few years after the race began, took off very quickly, and became the go-to place for all things Mussel. For several years afterward we didn't even have an official Facebook page - in fact, I avoided creating one because the group was so effective I was concerned that creating a page - which had begun to grow in popularity - would siphon off the active members of our group.
I finally created our event's Facebook page in 2012. I'd begun to experiment with automated social software, and wanted to be able to post some of the material we were directing to our Twitter account on Facebook, as well.
It turned out that the group's traffic did not decrease - in fact, the opposite occurred, as triathletes searching for our Facebook page liked the page and, later, seeing our page posts pointing to the group, chose to join that, as well.
We use our Facebook page to post everything from year-round promotional posts to last-minute updates during race weekend. It's a great place to check for photos and videos from the event and, post race, we'll often link to media coverage and professional photography galleries, as well.
'COMMUNITY MANAGEMENT': FACEBOOK GROUP
The Musselman Triathlon has an incredibly loyal athlete base, and nowhere is this more apparent than our Facebook group. You'll see everything from novice triathletes posting questions to Musselman brand influencers sharing their experiences post-race. It has become a real community, and we use it to try to bring our social media efforts together in one place, as shown below:
The Facebook group is the ideal medium for customer service issues, especially in the heat of the action when race organizers are busy attending to other tasks. Some questions I can answer myself, and other questions are quickly answered by athletes with prior Musselman Triathlon experience. Just having the group exist has cut down on the number of questions sent via email, as well as athlete anxiety waiting for a response.
The Facebook group is also a great place for our athletes to post compliments - and, sometimes, constructive criticism - following the event. This is good for the event's profile, as each post is often seen by Facebook friends of the person posting, giving the event a publicity boost, as well.
Sometimes, event participants will post their experiences from Musselman weekend. This one, about something the athlete observed a triathlete do for another, has the highest engagement of anything posted to the group:
And no online community would be complete without photos. The Musselman Triathlon, like most events, sees post after post containing photos in the days and weeks following the event.
I invite you to visit the race's official Facebook group to see more.
TWITTER
The race's official Twitter account has over 600 followers. We use the account for everything from publicizing the race to providing last-minute reminders and updates on venue locations during the event itself. Promotional tweets factor heavily into the social strategy:
Twitter is great for reminders, as well. Throughout race weekend Twitter followers might see regular tweets of what's coming up in an hour, and what's just about to begin. Last minute venue change? Tweet it.
Twitter is also ideal for reminding event participants of the event's other social media sites, as well.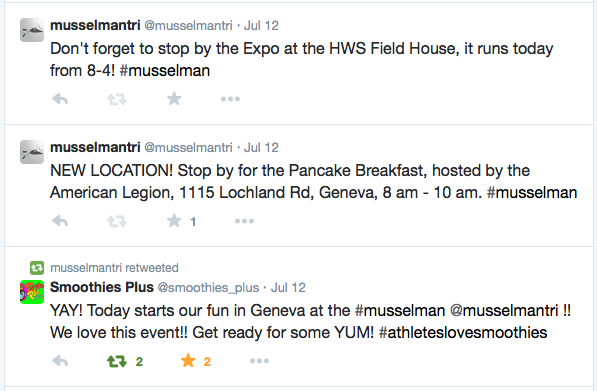 Many of our event volunteers follow the race on Twitter - in fact, several have said that they only signed up for a Twitter account at first so they could get the latest updates on the race. We like to use our Twitter account to recognize as many as possible.
Throughout race weekend I try to be present at as many event venues as possible. Followers of our Twitter account often say that, on years that injury and other life events keep them away from Geneva, following us on social media is a good substitute for being there.
With an increasing number of active social media users at each event, the job gets easier and easier every year. The first year we 'live tweeted' a lot of people admitted that they didn't 'get it'. A few years later, race participants have an expectation that they'll be able to follow the race's Twitter account for updates, and a combination of retweets from the official race account and hashtags help tie it all together.
Twitter is also a great tool for sponsor relations. Our first year on Twitter many of our sponsors weren't tweeting yet. Fast forward a few years, and almost every business has a Twitter account. It's easy to involve sponsors in the event through mentions and retweets...
Twitter also proved invaluable in our efforts to publicize memorial activities: